Preschool age Spanish immersion program
Children 2.5 to 5 years old
Pasion por el Español – Passion for the Spanish Language.
There is people who learn a language and there is people who "love" the language. We want our Preschool age Spanish immersion program students to LOVE the Spanish language and feel proud of becoming bilingual
Mi chu chu tren Spanish immersion for preschool ages is a program carefully designed to enable children to understand the world around them and the talents within them. We create an environment where they can learn daily activities and life skills while learning a second language, 100% exposed to Spanish. We know kids are natural born learners, we give them the tools and space for them to explore and fulfil their curiosity through hands-on-projects. Our curriculum develops the fundamental cognitive skills they will need for Kindergarten but we focus our hearts to teach them non-cognitive skills like perseverance, character, self-creativeness, trust and respect, which we believe are the key for their personal success.
We provide a holistic education based on 4 fundamental pillars: The methodology used by Maria Montessori , Rudolf Steiner's insights and pedagogy (Waldorf School), Howard Garner (multiple intelligence) and Albert Yans (conscious and unconscious learning). We have combined the best of these 4 methodologies in order to educate the whole child: head, heart, and hands. Together with each family, we build a foundation that is essential to each child's life.  Want to learn more about our methodology please click here.
Each class includes a small healthy snack. Children must be potty trained, if in the process, they are able to use pull ups but parents will need to stay nearby in case they need a change. Our program is based in a Full School year calendar and we follow FCPS schedule.
Instilling passion for the Spanish Language
Our main mission is to instill on children a real passion for being bilingual and for the Spanish Language. There is said that "One language sets you in a corridor for life. Two languages open every door along the way." – Franck Smith.
Learning a second language brings many advantages in our lifes and the best way to become fluent is by learning it in our early years. We are providing a full immersion experience so that they can learn through meaningful, real-world activities.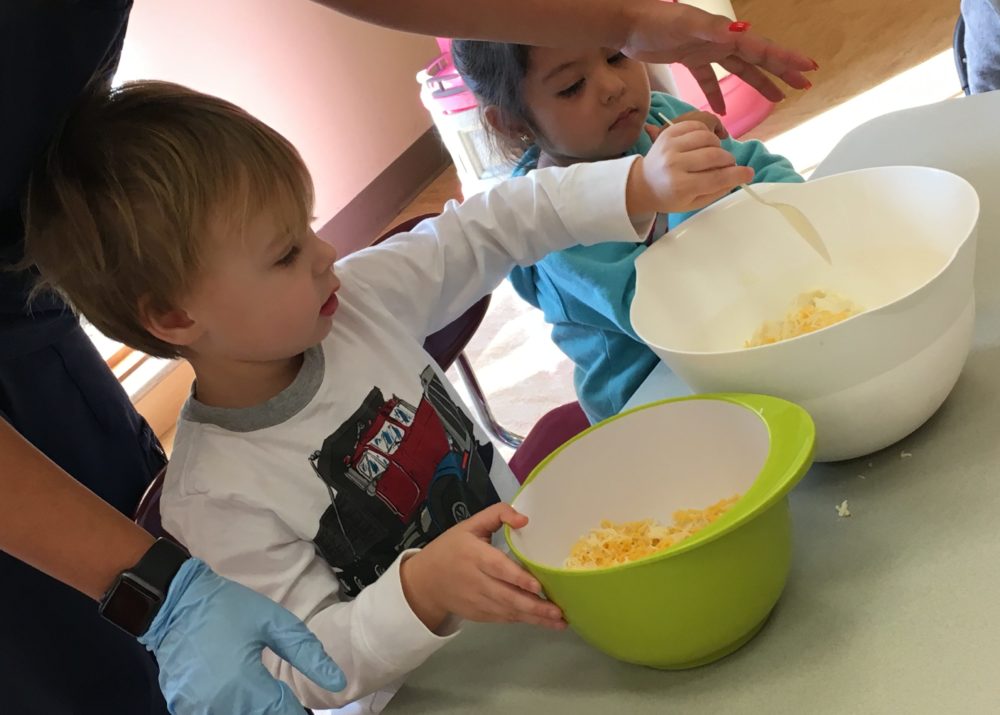 Following the theories of Psychologist Howard Gardner, we believe every child has a different way of Learning. We provide in every class a set of activities to cover different approaches such as musical, visual, linguistic, logical or social between others.
Activities insisde the curriculum are intentionally design to introduce key concepts through repetition and reinforce them by increasing the degrees of complexity for each concept.
We have included a broad array of hands-on projects through different STEAM activities to promote critical thinking, listening and concentration. We use cultural events to introduce concepts, involve students in art activities, science, experiments, cooking, puzzles, Legos and free play to approach their varied interests.
We provide a multi-grade and multi-level classroom where children have different ages as well as different levels of Spanish knowledge. This type of structure is a natural extension of life in the "real world". Younger children learn from older children while older children reinforce basic concepts and learn social skills as interaction with other ages is fostered. Children with English background interact with Spanish only speakers, creating a perfect bilingual environment.
WHAT WE DO AND HOW WE DO IT.
We love Music
Music is a multi-sensory experience that does seem to enhance young children's intelligence, reasoning skills, memory, and language skills. Participating in musical games or moving to music is a great way for preschoolers to "get their energy out." Music allows learners to acquire information naturally and presents information as parts and wholes. At our Preschool age Spanish immersion program, we've created a selected collection of songs that teaches children about daily themes, encouraging them to move, dance and sing along.
Creativity is always on
Creativity is not a special gift of some, it is a quality that can be nurture in everyone. Creativity helps teach cognitive skills such as mathematics and scientific thinking and is key in problem-solving. We use creative activities to promote social development, support physical, language and literacy development. Every day is filled with opportunities to explore their creative selves and we provide lots of opportunities to explore materials and pursue their ideas while using their imagination.
Role Play
Young children learn by imagining and doing. Have you ever watched your child pick up a stone and pretend it is a zooming car, or hop a Lego across the table as if it were a person or a bunny?
When your child engages in pretend (or dramatic) play, he is actively experimenting with the social and emotional roles of life. Through cooperative play, he learns how to take turns, share responsibility, and creatively problem-solve. When your child pretends to be different characters, he has the experience of "walking in someone else's shoes," which helps teach the important moral development skill of empathy.
Movement
"Movement is at the very center of young children's lives. It is an important facet of all aspects of their development, whether in the motor, cognitive, or affective domains of human behavior. To deny children the opportunity to reap the many benefits of regular, vigorous physical activity is to deny them the opportunity to experience the joy of efficient movement, the health effects of movement, and a lifetime as confident, competent movers." -Gallahue (1993).
We do not stay sited for long periods of time. We stand up to dance, play and go outdoors to exercise.
Listening and Telling Stories
Reading stories, listening to them and telling them themselves, promotes the child's imagination. It is extremely important for Early Literacy Development as well as visual learning skills. "What Einstein was able to do was to think visually."
Storytelling is an art that has mental, social and educational benefits on children. People of all ages love stories. Children are great fans of stories and love to listen to them. The most bulging benefit of storytelling is increased knowledge in children. They get to know about various places, practices in life, relationships etc
You heard right.  We will be offering (an optional) extension to your preschool experience. The Lunch stop will run from 12:00pm to 1:30pm. Children need to bring their own lunch. If interested, please sign up for the "Lunch Stop" program separately. When signing your child, please let the office know you are interested in the program. Spots will be limited.
Two Day Progam
M-F or T-Th
Three Day Progam
M-W-F or T-W-Th
TUITION
Mi chu chu tren Spanish Immersion program for Preschoolers is committed to have affordable fees while maintaining the highest level of care and education. You will find our fees compare favorably to other facilities in the area. We have NO registration fees and no hidden costs and all materials are included in our price.
The tuition fee covers the whole school year and for your convenience we have divided it in 10 monthly installments. If you need to leave us before the end of the year, we requiere a written notice a month prior. We do collect an activity fee of $120 per child each year, which covers all materials and workbook. This fee is collected the first week of school and is payed directly to "Michuchutren".
Every sibling of registered preschool students will have a 10% discount on their tuition.
Financial assistance is  available for qualifying households through Fairfax City.  Please call 703-385-7858 to make an appointment and/or check their requirements here.
LOCATION
Spanish immersion for preschool ages program
Sherwood Community Center, Fairfax City
3740 Old Lee Hwy, Fairfax, VA 22030
Sherwood Community Center
Mi Chu Chu Tren Spanish Immersion Program
"Small Giants of the future"